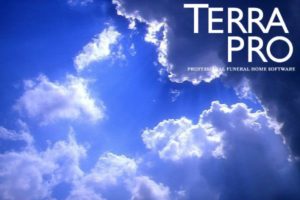 Terradise™'s TerraPro is now available as a cloud hosted application available on the internet from any computer, anywhere.
The advantages of the cloud are many:
1. You always have the latest version of TerraPro
2. Your data is secure, backed-up nightly, and on redundant servers
3. The program performs MUCH faster than on a networked computer using your in-house server
4. You can spread your costs over time, rather than making a large investment all at once.
Pricing:
$500 setup fee, $100 per month first user and $50 per month each additional user.
Our Cloud Solution uses Wizmo, a leading industry cloud solution provider and links to the FrontRunnerPro family of funeral home products and services as well as websites  hosted by our partner, Mast Interactive (formerly HB2Web)
You can download free demos of our software offerings by clicking here.
Click for more information about Software as a Service (SaaS)